During the challenge, I bought our home a spiralizer. I've wanted one for a while (how else would I manage to make all those Pinterest Pins come alive?). So, I am allowing myself a couple of things that would have been taboo over the last two weeks, but still trying to keep with the overall idea; after all, I have a lot more weight to shed....
Here's a little internet roundup of my finds so far.
First, I have missed bread, so I whipped this up:
Terry said this bread actually chewed back. I didn't have any fresh out of the oven, but the next evening it made great toast.
TWEAKS: I didn't have all the dried herbs it called for, but I did have a bit of pesto in my fridge, so I mixed that in for the olive oil crust treatment.
Then, I got to spiralizing! I really enjoy making things with this. The first item was my lunch, a lovely carrot and spinach salad in a jar.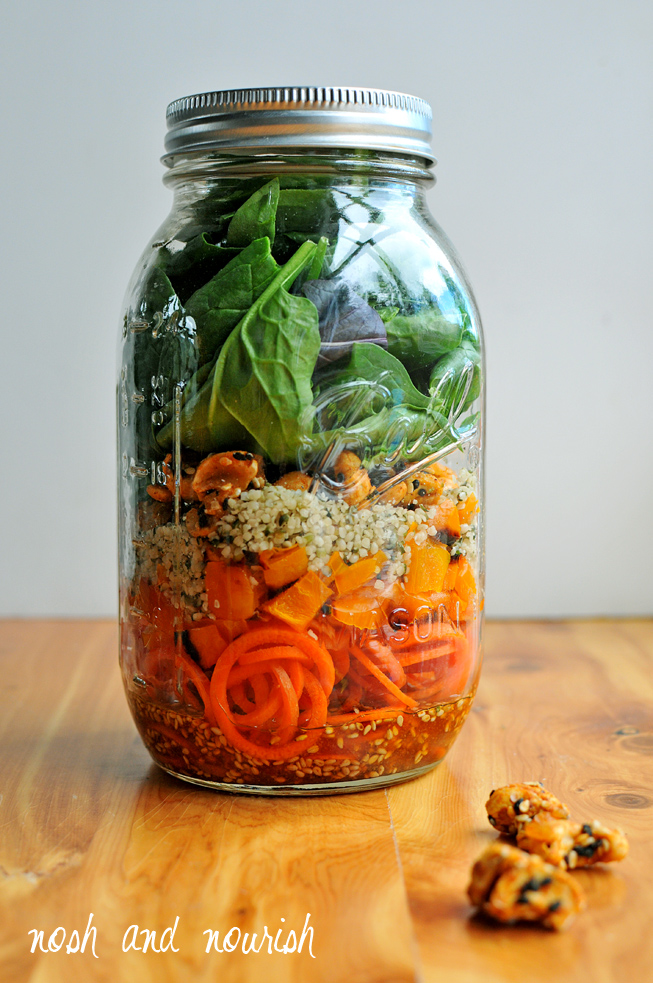 TWEAKS: I didn't have cashews, so I tossed in shelled pistachios instead. YUM.
Then I whipped up a soup with sweet potato "noodles":
TWEAKS: I didn't find the Japanese variety of yam, so I just used what they had. It was more colorful than this soup, but I don't think it hurt it any.
This morning I whipped up a new smoothie:
TWEAKS: I couldn't find my molasses, so I tossed in maple syrup, plus I added some oatmeal to up the fiber count on this. It was like a really nice cinnamon oatmeal that you can drink.
Tonight, the spiralizing maddness continued (sorta). I tried to spiralize a slaw, but only some of the veggies cooperated.
Tweaks: I added pear. Oh, and this did not need to be spiralized at all, I just thought I'd try.
That got served with meatballs. Oh, how I missed beef over the past two weeks. Our grass fed beef stash was calling to me, so I made meatballs based on this, with one surprise:
TWEAKS: I used oatmeal instead of breadcrumbs. I also hid one baby mozzarella in each of these. Divine.
My big cheat today were restaurant fish tacos (grilled), but I skipped the beans/rice. Oh, and I did allow myself a beer today. Just one. It tasted really good.
Gonna try to keep up with the healthy eating with just a few treats for myself until the next two week clean eating challenge on Sunday.